Rebecca Wilkie Designs Mosaic Workshops -Mosaic Art Classes/Workshops in Brisbane
Let's enjoy creating mosaics !


Mosaic Workshop Gift Vouchers
My mosaic workshops make a fantastic gift for any occasion. Give this special gift of a crafty and fun day creating a beautiful mosaic artwork.
1,2 and 3 Mosaic Workshops are the standard courses. The prices per day come down considerably, the longer the workshop.
Every workshop includes the ceramic & glass mosaics, refreshments and a delicious sit down lunch. We have loads of laughs, enjoying a very sociable and creative day!
Call Rebecca on 0477760028 or email – mosaicworkshop@bigpond.com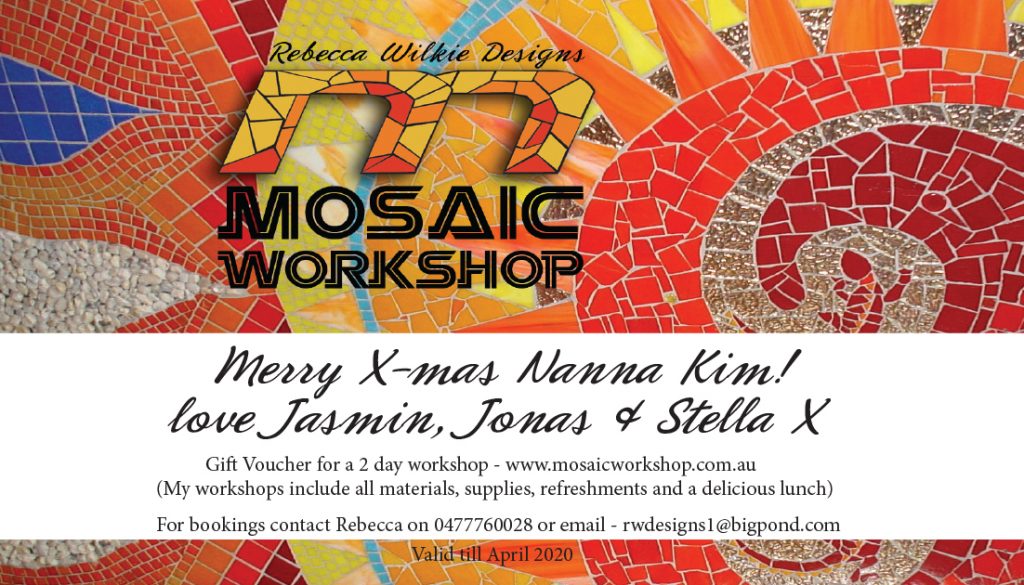 How I like to teach - Learn how to create mosaic artworks!
Rebecca Wilkie Designs mosaic workshops in Brisbane are intended to be instructive, creative and fun. I prefer to have a maximum of 6 students at a time. That way, it's fairly relaxed, each of you will have my attention as required and I can cater for individuals requests. I understand that many people aren't confident when it comes to creating art. Some feel that they don't have a creative bone in their body. Well, I can help you as little or as much as you like to complete that first mosaic…. You can create fabulous mosaic artworks! You'll start to find your confidence and most likely want to progress to the next class. Gone are the days of my large, hectic art studio, I now run mosaic workshops and mosaic artwork classes from my home in brisbane which offers a very pleasant and creative environment…not too serious and a lovely place to hold mosaic art workshops.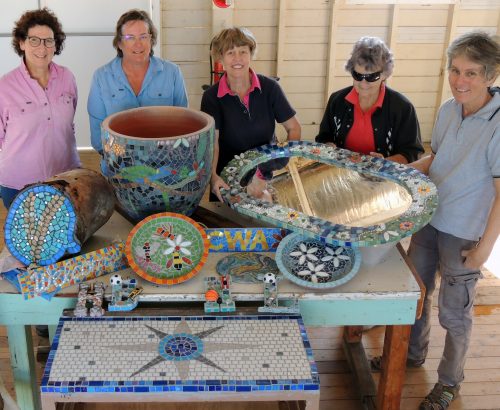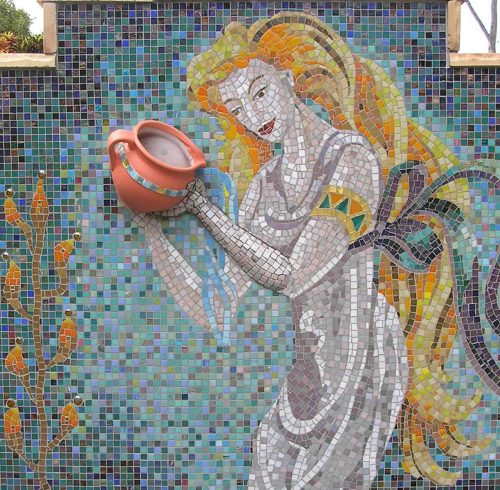 My career as a graphic designer and fine artist spans 30 years. In 1989, travelling through Spain and Morocco, my eyes were opened to the incredible craft of mosaic art. On my return to Brisbane, Rebecca Wilkie Designs art studio and ceramic tile factory was established in Bulimba. Two years later, we moved to larger premises in Newstead, where the business enjoyed considerable growth during the next 12 years. Over time and many commissioned artworks, I was continually challenged to hone my skills and experiment with a wide variety of techniques and materials in order to fulfil the demands of producing fresh and unique mosaic artworks for my customers. Projects that I have been commissioned to produce include residential mosaics for walls, entry floor murals, tables, chairs, swimming pools, ponds, and stairwells. Larger commercial works, sculptural  and public art commissions include Iguana Joes Bar-Gosford, Mater Children's Hospital, McDonalds, Secrets on the Lake- Montville, Palazzo Versace Nympheum Walls, Charters Towers Community Centre, Seaworld Nara Resort Bar.
Creating mosaic art can be a very satisfying journey. Rebecca Wilkie Designs offer mosaic classes for beginners and more accomplished crafters. Art classes for adults is becoming more and more recognised for it's therapeutic qualities. A Mosaic Workshop can be a great learning experience for some but all who pursue artistic endeavours will find some positive outcome in the process. Take the first step on a new journey and spend a fun and informative day with me learning to mosaic! During SCHOOL HOLIDAYS, it's a perfect time for parents and children to spend time creating something special together. We also cater for school friends wanting to form their own group workshops. Make an enquiry below for your preferred dates! We are centrally located in Brisbane, with the Gold Coast and Sunshine Coast only about 1.5 hrs away.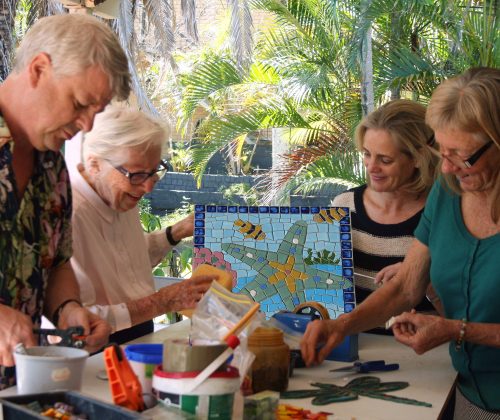 22 reviews on
Gail Bennett-Kesby
2021-12-08
I had my first experience doing mosaic, I did the top of my little kitchen table and it has turned out fantastic I am so happy with it, Rebecca was such a great wealth of information and help along the way I'd recommend doing this to everybody as it's a great get together while crafting.
Rebecca was warm, friendly and very encouraging. She had everything arranged, and assisted and supported all the students. It was great to complete my design in the 1-day workshop. I am very keen to go back to create a bigger more creative design. I would recommend this workshop even if (like me) you are not very skilled or artistic! And lunch was delicious.
Catherine Sugget
2021-10-27
Rebecca's beginners mosaic course was the most amazing day! She was so helpful and made sure we all left with a completed mosaic piece. We all did so much better than we thought we would and had such a great time. The lunch she provided was so delicious aswell!
Brookfield Music
2021-10-04
I've just completed a two day mosiac workshop with Rebecca. The class was great. Rebecca is a good teacher and provides a beautiful space to mosaic in. These classes are good for beginners and the more advanced. There was a wide choice of materials to choose from and I learnt many useful tips from Rebecca. The lunches are divine and I'm really glad I booked in!
Barbara Hastings
2021-09-21
Cannot recommend Rebecca's workshops enough! Rebecca brings out the best in every student, whether beginner or old hand at mosaics. She tirelessly guides your through your project, helps your select designs, colours and tiles. She seems to possess unending patience on every level. Plus you get to do your project on her beautiful, huge balcony. With unending tea and coffee, plus a lovely lunch, Rebecca creates not just a workshop, but a community. No wonder so many of her students keep coming back over and over (myself included!). Do it. Book now.
Julie Fletcher
2021-09-08
I attended a recent workshop at Rebecca Wilkie Mosaics and enjoyed it immensely. The course involved mosaic art on a 45 cm diameter polystyrene ball which was challenging but very enjoyable. The other attendees were truly lovely people as was Rebecca and although we worked very hard, we also had a lot of laughs. Rebecca is a very capable tutor and was always available to assist in any way when needed. I will definitely be attending another course with Rebecca. Also the food provided was fabulous and we looked forward to lunch each day!
Had a wonderful time at Rebecca's Class in Kingaroy as part of the Winter Craft Festival. Would love to explore this craft more with Rebecca and her lovely team.
As a novice to mosaic art , I didn't feel confident on arrival. Rebecca provided a welcoming environment and I instantly felt at ease. You could work at your own pace and in your own space. Rebecca was always willing to assist when needed. She guided me with my project. I'm so impressed with her patience and expertise and my chair.
Leanne McNamara
2021-06-13
We had an absolutely brilliant day, learning how to mosaic with Rebecca. Rebecca was so friendly and super helpful and I loved every minute of it. Not to mention I was super chuffed with how great my finished product looks! Thanks for a wonderful day.
Wendy Lethbridge
2021-03-31
Rebecca's introductory workshop was wonderful. Rebecca is very patient. She spends a lot of time explaining the basics of creating mosaics and is very generous with her help. I enjoyed the day very much. I would definitely recommend Rebecca's workshop.
View our short video to see some students in action​
Let's enjoy creating mosaics !

The music in this video is happy, fast beat pop orchestral sounding. There is no voiceover, only limited text descriptions.

THIS SITE IS PROTECTED BY RECAPTCHA AND THE GOOGLE PRIVACY POLICY AND TERMS OF
SERVICE APPLY.
Register for workshops by sending a message with your preferred dates. I'll be offering 1, 2
and 3 day workshops. Organise a group of 5 or 6 friends (you and 4 or 5 others) to have your own private day of mosaic workshop and lunch
ALL AGES WELCOME!
Would you like to book a mosaic workshop for yourself, your business or community group? Just send us a message and I'll reply asap