Workshops for school children
Let's enjoy creating mosaics !

Mosaic workshops for school children
We enjoy working with your children to create very positive and memorable artistic experiences. We've worked in schools on large scale projects in which each student from the school or year group will spend several hours learning the hands on techniques of mosaic art. In other projects we've been commissioned to design, create and install the mosaic for a specific location within the school grounds, without student involvement. I personally prefer the interaction of guiding and sharing our knowledge with the students so they have the opportunity to experience the captivating craft of mosaic art.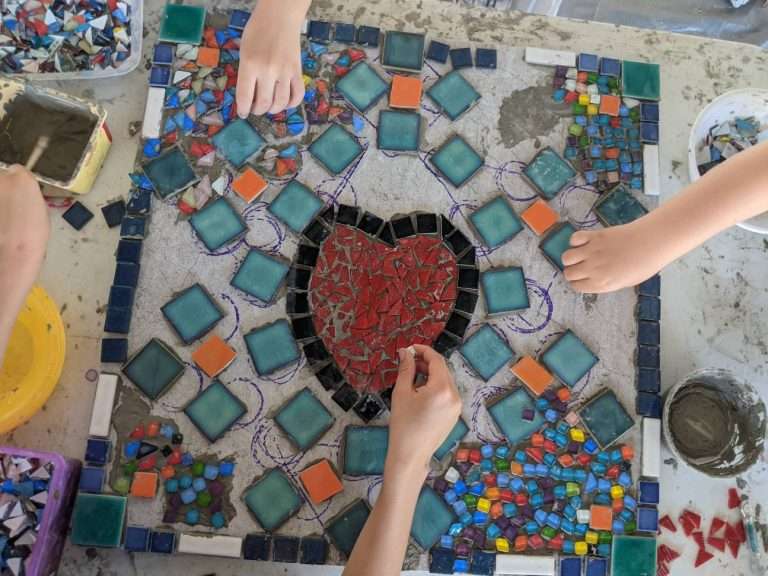 Rebecca Wilkie Designs provides Mosaic workshops for students of all ages. You can choose the project we offer or you can let me know what you have in mind and I'll work towards creating your vision.
We supply glass mosaic tiles, ceramic mosaic tiles and tools of the trade. Everything is provided for your child's beginner mosaic workshop. Rebecca provides friendly, helpful advice to answer any questions on grouting, outdoor mosaics and tiling methods. My studio has created many mosaics for residential and commercial premises during the past 30 years in Brisbane, Australia. Many of these artworks can be seen as floor & wall murals, decorative table tops, restaurant plaques and name plates, bar fronts and swimming pool murals.
What you will experience during your
mosaic workshop?