Mosaic workshops
and
class options in Brisbane.
Let's enjoy creating mosaics !

Beginner classes, advanced, 3D (Pique Assiette) and smalti. Learn the basics of how to cut glass and ceramic tiles. How to shape and create flowing designs. Some popular methods are Pique Assiette, Indirect method onto mesh or Blue board, mixed media, direct "push-in" to adhesive and reverse methods. As you move through the various workshops, you will become competent with more advanced shaping and varieties of mosaic materials. My 1, 2 and 3 day workshops all come with a light lunch, tea and coffee and laughs included. Pique Assiette, is the french term for plate thief or scrounger! This style of mosaic art is very popular, so gather up your Grandmas's old crockery and bring it along. This is the only workshop where you need to supply your own plates and cups etc. 
The beginner 6 hour course, focuses on a short introduction learning to cut and shape glass and ceramic tiles. Prepare our working substrate and select the colours you want to work with. I'll have some simple design options available to choose from and ensure that you go home with a completed mosaic. If you have something in mind, you can send me the image beforehand so it can be simplified if necessary. I will have a variety of options on the Designs Resource Page which becomes available to you once you have booked your workshop. I find that for a first time mosaic, it's best to keep the size to about A3 at the largest. The 1 DAY WORKSHOPS are available two Saturdays a month and some week days by request.
Contact Rebecca on
mosaicworkshop@bigpond.com
to book a day that suits you.
This 2 day workshop (12 hours all up) offers you a chance to learn more techniques, setting up on a different substrate if required and work towards completing a more substantial mosaic. You might have a special project in mind that you have designed yourself. If not, I can prepare a design for you before the workshop starts. You could create a small table top, mirror frame, artwork for the wall, a floor panel……so many options!! Be realistic though, if you want to complete the artwork before you leave, the size will need to be kept to approximately 70cm at it's widest. If you love tight detail this will take longer, so consider creating a smaller mosaic.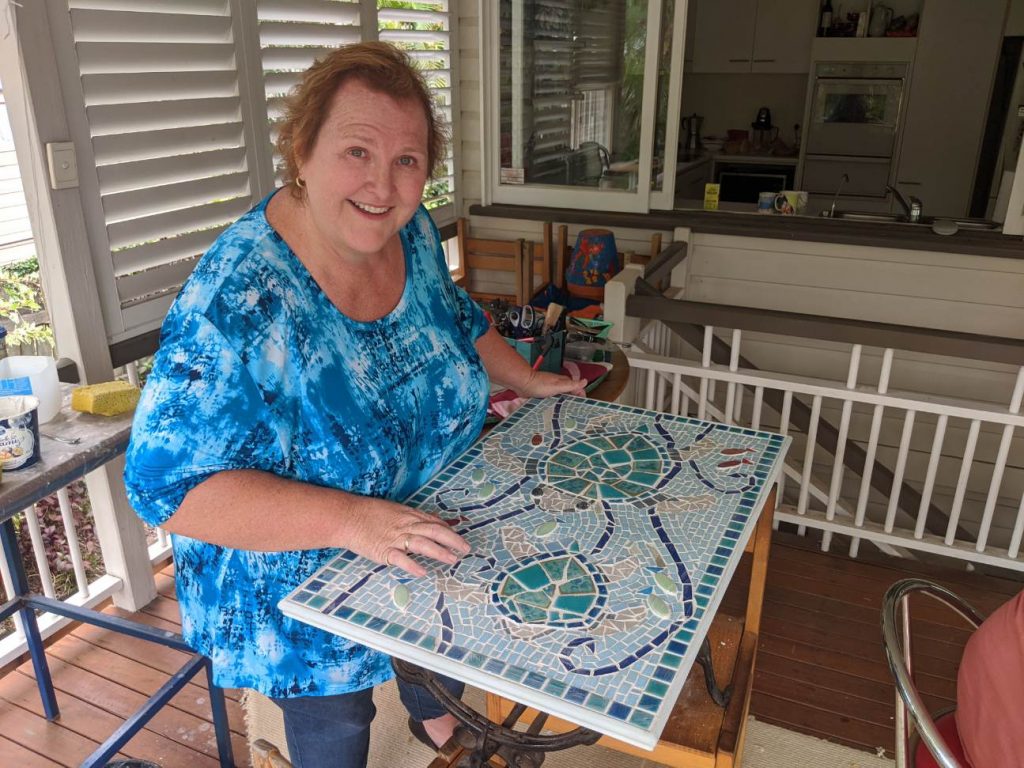 Three days gives us time to get sculptural! Now, this is heaps of fun and quite challenging at times BUT I can again give as much or little assistance as needed to create that very special artwork. You will enjoy the experience best, if you have at least already completed the 1 day workshop. We will be carving and shaping Styrofoam, coating it to prepare a base onto which you will mosaic. This will take a bit more thought and preparation than the shorter workshops but well worth the effort. There is another 3 day workshop option that I call the MAGIC MIRROR workshops. The prices for that vary because of the more expensive setup costs of the fabulous mirror frames and Mirror glass included. PLEASE SEE the promotion by clicking here
Open workshop- $40 - no
lunch or supplies included.
This is available usually one day a fortnight for past students or competent mosaicists to come and gather as a small group to work on your own projects. It allows you the opportunity to socialise, swap ideas and work along side other budding artists! Maybe an unfinished piece that's been sitting for a while, or moving onto your next creation. I will be available to offer assistance but may also be working on my own creation. You can bring your own supplies and tools or I can supply for an extra cost. Tea, coffee and soft drinks are available.
Call Rebecca on 0477760028
Cancellation and rebooking policy
Please read carefully:
CANCELLATION OF WORKSHOP BOOKING – Just call me asap so I have a chance to possibly fill your space. 
REBOOKING/TRANSFER TO ANOTHER WORKSHOP  We'll keep in touch with you about upcoming dates for other workshops to rebook you into. Please contact Rebecca to discuss any mosaic classes or workshop options for bookings or transfers. Thank you.
I just loved it I have people at work who are keen to do a class. The mosaic workshop was great. This was my first experience making a mosaic and Rebecca was fantastic. I really enjoyed creating my mosaic and Rebecca gave lots of guidance and help. This workshop is a great way to spend time with your friends, whilst learning a new skill. I just love the mosaic that I created. Thanks Rebecca.
Natalie -
1 day Introductory workshop
Had a great time at the 1 day workshop! With Rebecca's encouragement, advice and expertise I found a creative side I didn't know I had and my mosaic 'Owl' turned out beautiful. Thanks also for the delicious lunch!
Denise
I had a fantastic day learning how to mosaic. Rebecca is a wonderful, patient and encouraging teacher. I highly recommend her one day workshop for beginners. I cannot wait to get stuck in and do my second piece. Thank you Rebecca.
Karen
Thank you so much Rebecca! I had a wonderful time creating my butterfly in a relaxed and fun atmosphere which you provided. You taught me the basic skills i wanted and now I'm really looking forward to my next project and I know you only a phone call away 😜
Celeste
More Great Reviews... also visit FB for more reviews
In January I spent 2 fabulous days learning how to mosaic a mirror with Rebecca Wilkie. I turned up with a mirror I'd had stored carefully away for years, waiting for the right opportunity to demonstrate my creative flair. So to find someone as knowledgeable as Rebecca, to support me in designing my mosaic and help me choose tiles, was to good to be true. The process of learning how to mosaic is obviously important, but I'm so excited that the end product is now hung on my wall and admired by many. I loved every minute of being creative and encouraged and I look forward to being part of this great learning team again. Thank you Rebecca for your patience and encouragement in helping me achieve my long term creative goal.
What a great day my friend and I had at Rebecca's one day workshop. She was so friendly and helpful and nothing was too much trouble. I had never done mosaicing before but by the end of the day we had both finished our pieces and were the proud owners to each take our masterpieces home. We were also treated to a delicious lunch. We can't wait to have time to do another. Thanks Rebecca for a lovely day.
Pamela Clements recommends Rebecca Wilkie Designs: "rebecca was very welcoming and instantly made you feel at home. She was very patient and helpful with the class. The small group number was great as you got all the attention that you required. I would highly recommend Rebecca and am hoping to do a two day class in the near future."
Most frequent questions and answers
Answer – Yes, you can but I suggest that your first workshop is spent creating a small wall mural that I supply the base for. You are very welcome to bring your own for subsequent, more advanced workshops.
Answer – Of course you are very welcome to do so, but the workshop already includes all of the beautiful varieties of glass mosaic tiles, pebbles and unusual shaped specialty glass.
Answer – I am here to help you every step of the way. I'll let you know if you need to speed up or change your choice of mosaics so you can complete your mosaic in time. On the odd occasion, we have had some students come back at a later date to complete there artworks. No problem!
Answer – Yes, no problem. I just need you to give me a few days notice so I can make sure that I have time to include it on the menu.